Linking your Alexa and Spotify accounts unveils a convenient way to play and voice control your music streaming. However, some people experience issues when linking their accounts. So, you can't link Spotify Alexa? I got you covered in this article; we'll discuss why your Spotify isn't connecting to Alexa and how to fix the issue.
Why Can't You Link Spotify to Alexa?
There isn't a definitive reason why you can't connect Alexa to Spotify, but a couple of factors could influence the connection process. Although it's a straightforward process, sometimes you can encounter hick-ups when linking your devices. Like "damn, why is this thing not working!" kind of frustration when you can't get your device to work.
These are some primary factors that can cause failure in the linking process. Check them out before attempting more complex troubleshooting solutions. It could be that one or more are in play, affecting your setup process.
Your Spotify account could be accidentally logged out of the Amazon Alexa app
Spotify isn't the default music service in your Alexa app
Software-related linking discrepancies between your phone and Alexa device
Once you have established that none of these is amiss, you can now proceed to troubleshoot your devices further.
Can't Link Spotify to Alexa – Troubleshooting
So, now that we have established the cause, how do we fix it? Here are some troubleshooting tips to fix your Alexa can't link to Spotify issue.
Revoke Alexa access through your Spotify account and relink Spotify
Set Spotify as the default music service
Power cycle your Alexa device
Turn off the Explicit Filtering feature
Update your Alexa to the latest version
Reset the Alexa device
Let's look at each of these solutions in detail;
1. Revoke Alexa Access Through Your Spotify Account and Relink Spotify
Revoking Alexa access on the Spotify web account and relinking your Alexa afresh could solve your connectivity issue. First, log into your Spotify account, withdraw the access, and then relink your Alexa.
Revoke the Alexa access from your Spotify account on a web browser
Launch the Alexa app > More > Settings
From the settings under Alexa Preferences, select Music & Podcasts
Select Spotify from the options and choose Enable. If Alexa isn't listed, click on the Link New Service, "+" sign, and add Spotify.
While at it, be sure to clear the app cache and restart the app. A lot of cache build-up can slow your application and cause malfunctions. Go to your phone's settings > apps > select Spotify or Alexa > tap storage > clear the cache or offload for iOS devices.
Clearing your cache, restarting your phone, and relinking Spotify to Alexa should solve the linking problem.
2. Set Spotify as The Default Music Service
After connecting your Alexa to Spotify, you should set it as the default music service on your Alexa app for streamlined control. The steps are easy; you shouldn't freak out. Here is how to set Spotify as your default;
Open your Amazon Alexa app > More > Settings > Music & Podcasts > Default Services. Change the default settings. Probably it's Amazon music to Spotify. Set Spotify as your default service for the "Music" and "Artist and Genre Stations" sections.
3. Power Cycle Your Alexa Device
Still can't link Alexa to Spotify? Reboot your Alexa device to perform a soft reset. Restarting your device helps apply any changes that you might have made. Unplug the device from the power outlet, wait 30 seconds, and reconnect your device. Let it power up and connect to your network.
4. Turn Off the Explicit Filtering Feature
Some music services don't support the Alexa Explicit Filtering feature. Check whether this is turned on in the Alexa app, as it could be causing conflicts when linking to the Spotify account. These are the steps to turn off the explicit contented feature.
Open the Alexa app and select the More menu option
Choose "Settings" and select "Music & Podcasts."
Select the "Profanity Filter" and toggle off the options in there
5. Update Your Alexa to The Latest Version
Are you running on the latest Alexa app version? New versions are often released to fix bugs, improve the app's performance, and add new features. So, you could be using an old version causing problems when linking to other external devices. Therefore, be sure to check your respective app store for some updates.
Once you have updated your app to the latest version, attempt the linking process again. If it works, we're good. Otherwise, you should consider uninstalling and reinstalling your Alexa and Spotify apps and begin the setup afresh.
6. Reset The Alexa Device
I usually resort to factory resetting as a last resort method if worse comes to worst. You can reset your Alexa device through the Alexa app or manually through the action button on the physical device.
To factory reset your Alexa, continuously press the action button for 20 – 30 seconds. Usually, Alexa lets you know when resetting by saying "now in setup mode" or "resetting your device." Once it does, let go of the button.
The Alexa ring light should go off by itself, give your device a moment to reset, and then the ring should revert to blue and be ready for set up. Follow the Alexa app prompts to set up your device and connect it to your home network. Now, try linking Spotify again.
So, how do you correctly link your Alexa to Spotify? Sometimes we complicate a simple process. Therefore, it's essential to understand the clear and straightforward way to connect your devices. You might be skipping a step.
How To Connect Alexa to Spotify
You must add the Spotify skill to the Alexa app to connect your Alexa to Spotify. Installing this skill is a straightforward process, and you should experience trouble. You can link your Spotify to Alexa either from the Spotify or Amazon Alexa apps. Either way, you should eventually connect your accounts. Let's dive into how to add the skill.
You can connect to your Spotify account by installing the Spotify Alexa skill through the Amazon Alexa app.
Open your Alexa app and select the "More Tab." It's the right most for android devices.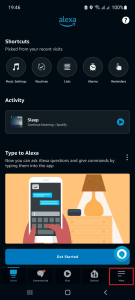 Next, select "Settings" on the next tab.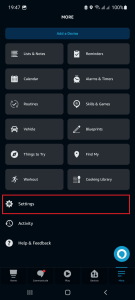 Under Alexa Preferences, scroll to find and select the "Music & Podcasts" option.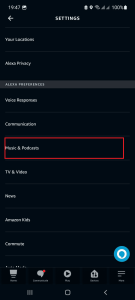 Select the "Link New Service" option on this tab
Choose "Spotify" from the music or podcast services list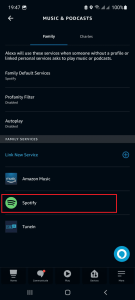 Click "Enable to Use" to activate the Spotify skill. I have already linked my Spotify, thus, I have the "Settings" option.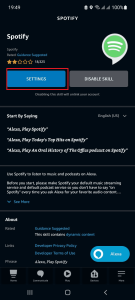 Next, log in to your Spotify account with your credentials and "Agree" to the policy to connect. Click on "Close" to finish up the setup.
You will be prompted to set Alexa as your default music service. You can choose to put it or skip it for a later time.
Alternatively, you can also connect to Alexa from the Spotify app. I find this method more accessible, especially when sharing the same email address to log in to your Amazon Alexa app on your phone.
Open your Spotify app and select "settings."
Scroll down to Voice Assistants & Apps, and select "Voice Assistants."
Click on the "Link" button under Amazon Alexa.
Confirm by selecting "Link" under account linking.
Select "Agree" to the policy standards.
When you successfully link, the Amazon Alexa under voices assistants turns green. You can now proceed to set Spotify as your default music service.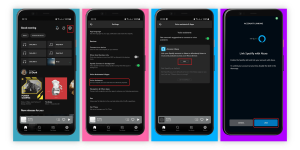 Once your have linked your accounts, check out: Common Alexa Spotify commands
Final Thoughts
It's frustrating when you can't link your Alexa to Spotify. There are a lot of convenient features left on the table. You can fix the issue by revoking the Alexa access from the Spotify account through a web browser, setting Spotify as your default music service, clearing your app cache, and resetting the Alexa device.
Alexa works with Spotify, whether the free or the premium account. This should be a reason to think that it won't link. Primary, the set-up process is straightforward. Once connected, you get to enjoy voice control commands like "Alexa, what song is this" or "Alexa, next song" to find out the name and artist of a song and skip a song, respectively.
If you experience problems, even after trying all the troubleshooting solutions, it's time to conduct Alexa customer service.