Getting motion detection alerts on the Ring app only to find last-minute footage of the delivery guy leaving or the device completely missing person detection isn't what we intend when we install Ring cameras. I expect my camera to detect and alert me before the visitor arrives at my door.
Getting your Ring system to run as intended comes with a sense of security and peace of mind. You are assured that all action within your home is captured and available for playback. This won't happen when the camera keeps missing motion events.
This article delves into the Ring camera person detection features and how to customize it for maximum functionality.
Why Is My Ring Camera Not Detecting People?
Ring cameras missing people on the field of view could be due to a poor network connection, motion detection settings (smart alerts), or the camera positioning affecting the angle of view. First, ensure motion detection is enabled and working before turning on smart alerts and customizing your motion zones.
With a Ring protection plan, you can get distinguished motion detection with the Smart Alerts feature – The camera can tell if it's a Person, Package, or another form of trigger.
Whether you have enabled Smart alerts or run on the default detection feature, a couple of factors will affect the motion detection ability, including;
The network signal strength or signal jamming
Camera installation point and positioning
Motion detection settings – Activity and Privacy zones, Sensitivity level, etc.
Insufficient power access – A low battery or incorrectly wired
As you already know, Ring doesn't record 24/7 but only when the camera or doorbell is triggered by motion. Therefore, the device functionality is tied to motion detection.
If the camera is picking motion but only missing the person detection, it points to an issue with your camera settings or network connection.
On the other hand, if motion detection isn't working at all, you have a bigger issue at hand. Get the motion detection working before you refine it further with Smart alerts.
That said, try these troubleshooting solutions to get your camera's person detection working;
Confirm the Signal Strength
Ring cameras must always be in sync with cloud servers, requiring a constant network connection.
The received signal strength must also be sufficient to support the camera activities. You can verify this on the device health tab.
Select the device on the home screen (or tap the menu toggle > Devices > select the specific device) > Hit the Settings Gear > Select Device health > Check the Signal Strength RSSI value.
The ideal Received signal strength indicator (RSSI) value ranges from 0 to -60 – indicated in green. If so, the network isn't the cause of the detection failure.
Your camera receives a poor signal if you have less than a -60 value, which is probably indicated in red. In this case, you are bound to experience detention problems.
So, how do you improve your network on the camera location?
Move the camera closer to your primary router or vice versa
Install a Wi-Fi extender between the camera location and the primary router
Upgrade your home network to a mesh topology and have a point closer to the camera
While on the Device Health tab, also confirm the power state of your camera.
Verify your Motion Detection Settings
Ring offers various customizable options on the Motion detection tab to refine your camera's performance.
Motion detection and alert toggles enabled under the respective camera is a no-brainer. This is the basic setup of all cameras.
Again, the motion sensitivity level option affects how easily motion events trigger the camera. Setting it to Min means the camera won't be easily spooked, while it's easily triggered on Max.
Set the sensitivity level to the median for optimal performance (to avoid missing out on motion triggers or getting too many false alerts).
Under the Advanced Settings option, you get the Smart Alerts option, allowing you to refine your motion detection further. So, have you enabled Smart Alerts?
If you have enabled person detection under Smart Alerts, ensure you have turned on the "record" and "alerts" icons to get notified when a person is detected.
Conversely, if the smart alerts feature doesn't work or is missing detections, consider turning it off and using the motion sensitivity and activity zones to refine your experience.
Again, confirm your activity zones are properly set up. Remember, you'll only get motion detection and event recording with the set activity zone.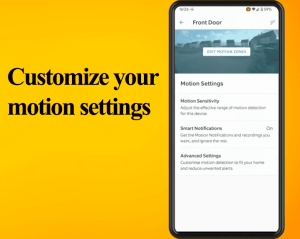 That said, other settings could affect your camera motion detection;
Set Schedule – Allows you to arm and disarm the camera at different times
The camera modes – Home, Away, or Disarmed modes
Applying the snooze feature
Camera Positioning
The detection feature works best when the motion moves across the area of view rather than towards it. The camera must be well-positioned and installed.
Under ideal conditions, Ring cameras can detect motion from up to 30 feet.
Here is what to consider when installing and positioning your camera for optimal motion detection;
The angle of view – Ensure the camera has a clear and unobstructed line of vision to the area you wish to monitor. Please keep it away from obscured angles by walls, close to trees, or behind glass material.
Mounting elevation – Position the camera at an appropriate height to capture your desired field of vision. It's often advised to mount outdoor cameras at approximately 9 to 10 feet.
Network signal strength – Consider the quality of the Wi-Fi signal in the intended location. Don't install the camera in a Wi-Fi dead zone.
Bonus Solution
Add a motion sensor – Ring has an alarm system comprising a base station, motion, and contact sensors.
Once set, you can have the motion sensor trigger your camera to start recording once it detects motion. The Ring app allows you to link devices and have the motion sensor activate your camera.
How Do I Set My Ring Camera to Detect People?
To get your ring camera person detection working, you must enable the Smart Alerts feature – This is only available with a Ring Protect plan.
Here is how to enable Smart alerts;
Hit the Menu icon and tap Devices
Select the camera or Doorbell
Tap the Motion Settings tile > Smart Alerts
Enable the toggle and tap continue – Set the notification and recording options for Person and Other triggers.
Hit Done to save.
Once set, you can access the smart alerts on the device settings to adjust.