Eufy offers wired and battery-powered doorbells in its lineup capped with local storage capabilities, making it a go-to option. However, the running isn't always smooth; sometimes, you can face functional or connectivity problems.
So, why is your Eufy doorbell not working?
Primarily, you will experience functionality problems when your doorbell loses network connectivity or has an inadequate power supply. Check your doorbell status on the Eufy security app to confirm that your doorbell is online.
Here are the potential reasons why your doorbell isn't working;
Poor or no network connection
Power supply issues – low battery or hooking the wired models to an incompatible chime.
Loss of connection to the home base
Outdated or corrupt firmware files
Incorrect app settings – activity zones, privacy zones, detection, etc.
Faulty device
Troubleshooting Eufy Doorbell Not Working
Getting your doorbell back in action requires your troubleshooting skills to identify and fix the root cause. Here's a step-by-step guide to help you;
Before getting into the meat of it, try power cycling the doorbell, home base, and network devices. This fixes temporal disconnections and refreshes the connection.
Check If the Doorbell Is Online
To get any action from the doorbell, it must be online and in sync with the cloud servers.
The app labels the doorbell offline once it loses network connection or can't communicate with the servers.
Therefore, confirm your doorbell's status on the Eufy app – is it offline, or can you access the live stream?
Read Also: Getting Eufy Doorbell Back Online.
If you can load a live stream, the doorbell has a network connection – running out network issue as the source of the problem.
Address Power-Related Issues
Power and network connection are mandatory to get any service from the doorbell; lack of one is a source of trouble.
Whether you have a battery-powered or directly wired doorbell, confirm that your device receives adequate power to support its operation.
If the doorbell is online, you can check the power status on the app under device settings. For battery models, recharge if the battery is low.
On the other hand, ensure that your transformer supplies sufficient voltage for wired models. Eufy doorbells work with 16-24VAC, 30VA, or above voltage. Upgrade your transformer if it's incompatible.
Again, keep the wiring tight and confirm no loose wires.
At this point, you should have a powered and connected doorbell. Remember, Eufy doorbells only connect to 2.4 GHz Wi-Fi networks.
Check Device and Chime Settings
Once your doorbell is connected and powered, the performance failure should be attributed to inaccurate settings or corrupt firmware files.
So, what settings do you have on the app? Have you enabled motion detection, set activity zones, and correctly hooked it to a chime?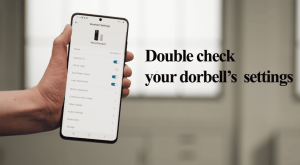 The app provides various other settings for customization to suit your needs. Therefore, double-check all your settings and confirm that all sits well.
Update the Firmware and App
Your doorbell not working might be due to outdated firmware or app versions. Staying current with the latest updates is crucial.
Eufy regularly releases new firmware to fix software glitches or enhance doorbell functionality. Similarly, updated app versions introduce fresh features and solve prevalent issues.
Have you updated your app and firmware? Look for updates in the relevant store.
Eufy doorbells with a connection update their firmware automatically. Nonetheless, verify for any upgrades under "About device" > Check for Firmware.
Reset Your Doorbell
A factory reset returns your doorbell to its original settings and eliminates any corrupted configurations or partially updated files.
You can remove the doorbell from the app to disassociate it from your account.
To reset a wired doorbell model:
Disengage the doorbell from its mount using the release tool. Locate the release hole either on the bottom or top.
Rotate the doorbell to reach its rear side.
Insert the release tool into the reset pinhole and press, holding for 10 – 15 seconds. Release after hearing a beep from the doorbell.
Wait for the doorbell to reset and switch to pairing mode.
For battery-operated Eufy models, press and hold the Sync button for 10 seconds.
After the doorbell resets and is in setup mode, pair it again using the EufySecurity App. Hooking it to the app offers a fresh start.
Customize the settings and check if it now works to your liking.