Ring offers up to nine doorbell variations to choose from. They all serve a similar purpose but have different features and specifications. Once hooked to the Ring app, you can control and customize it to your preferences. Telling your specific doorbell model and version can be confusing with all these models.
This information is readily available on the Ring app, the back of the device, or the product box. But we all dispose of those boxes after installing our devices; that bridge is burned.
How To Tell Which Ring Doorbell You Have
The simplest way to tell your doorbell version is through the Ring app. The product name is listed under the device's settings. The doorbell must have already been added to the Ring app for this to be a viable option.
Here is how to find your doorbell details;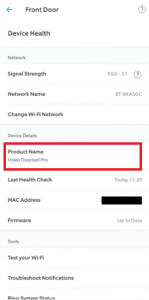 Open the Ring app on your mobile device
Tap the top left menu icon (three lines)
Select Devices > Choose the specific doorbell from the list of devices
Navigate to the device settings and hit the "Device Health" tile
Under device health, scroll down to the Device Details Section
Ring app lists the Product name, MAC Address, Last Health Check,
You can grab your product name and Mac address to address your needs.
Alternatively, you can find the device details and serial number on the back of the ring doorbell. If your doorbell is already installed, it's a hassle to unmount and observe.
If this is the router you are interested in, follow these steps;
For wired doorbells, be aware of wires or turn off the circuit breaker.
Using a T15 Torx bit, carefully unscrew the fastener securing the cover plate of the Ring Doorbell positioned at its lower part.
Gently detach the cover plate of the Ring Doorbell.
Remove the four screws attaching the doorbell to the mounting plate
Turn the device on its back to observe the details (S/N stands for Serial Number)
Various Ring Doorbells and Features
Here is a brief description of some popular picks in the Ring lineup;
Ring Video Doorbell Pro: Designed to replace traditional doorbells, the Video Doorbell Pro is a hardwired solution that connects to existing doorbell wiring.
It features an ultra-slim design, 1080p HD video, and advanced security features. The setup process is straightforward.
Video Doorbell 3 Plus: As an upgrade to the Video Doorbell 3, the Video Doorbell 3 Plus introduces dual-band Wi-Fi connectivity, improved energy efficiency, and advanced motion detection.
It also incorporates Near Zone functionality and can be found at select retailers.
Video Doorbell Wired: The Ring's smallest and most affordable smart doorbell.
It requires hardwiring to the existing doorbell and includes a jumper cable to bypass the internal doorbell.
Users can purchase a Ring Chime or Ring Chime Pro Wi-Fi extender for internal doorbell sound.
Doorbell Pro 2: A wired video doorbell offering enhanced features such as Head-to-Toe HD+ Video, Alexa Greetings (for Ring Protect subscribers), 3D Motion Detection, Audio+, and Bird's Eye View.
Users can monitor their front door in real time via the Ring app or an Alexa-enabled device.
Video Doorbell 4: A battery-powered doorbell that introduces color Pre-Roll technology, 1080p HD video, two-way talk, Advanced Motion Detection, dual-band Wi-Fi, and Quick Replies.
Color Pre-Roll provides a four-second video preview before receiving an alert, offering users more context.
Battery Doorbell Plus: It's an upgraded version of Ring's doorbell lineup.
It offers clear HD+ video, an expanded field of view, and features like Person Alerts and Package Detection (subscription required).
Final Thoughts
Identifying your Ring doorbell model is crucial for understanding its specific features and capabilities.
You can determine which model you have by examining physical characteristics, checking packaging and documentation, and checking the Ring app.
Understanding your model's key features and specifications will help you make informed decisions about upgrading or troubleshooting.