If you're a Blink security enthusiast, you have definitely heard of or interacted with a Blink sync module. Conversely, if you are looking into the Blink system, you will come across this device several times. All Blink cameras barring the Minis and Video Doorbell, require a module to connect to your home network – usually a 2.4 GHz Wi-Fi network.
As we shall see, there are two versions of the Blink module, with the Key difference being that Sync module 2 supports local storage and has slightly improved performance features.
I'll walk you through all the information you need about this device. It must be an informed decision if you are considering getting a Blink security system or adding a module to your setup.
What Is a Blink Sync Module?
A Blink Sync Module is a device that connects your Blink security cameras to your home Wi-Fi network and facilitates device communication within the connected devices. This allows you to manage your Blink security system from your mobile device conveniently.
Primarily, you can add up to 10 compatible cameras and Blink accessories to a single module. The module facilitates the communications and command relaying between the various devices.
If you have over 10 Blink devices, you need an additional sync module to create a separate "system" on the Blink app. You can control multiple Blink systems (with individual sync modules) under one Blink account.
Under ideal conditions, you can hook cameras to the module within a 100 feet range. Remember, the cameras connect to both the module and the Wi-Fi network. Therefore, take into account the primary router location.
With or without a subscription, a module plays a critical role in your setup. Here are the key features of a module;
Effortlessly manage up to 10 Blink gadgets through the Blink application.
Link all Blink cameras to a unified IP address within the overseeing system.
Experience extended camera battery longevity due to the constant accessibility of the Sync Module.
Add local storage to your system with a Sync module 2.
The notable cons of a module include the following;
It is only connected to your network via Wi-Fi, unlike other hubs/base stations with ethernet ports. Therefore, prone to network disconnection or interferences.
You can only control Blink devices
Blink Sync Module 1 Vs 2
As stated earlier, Blink has two module versions: an original and the 2nd generation sync module 2. Sometimes, telling which module you have on your system is confusing.
If you obtained the Sync module alongside Blink Outdoor cameras, you possess the Sync 2.
Conversely, if acquired with XT2s, it would be Sync 1. In cases where it was purchased independently and a receipt is absent, you can locate a model number on the underside.
The Sync module 2 has an active USB port allowing local storage and a "Sync module 2" inscription on the top.
The Type-A USB port works with thumb drives formatted to the ExFAT format, with a minimum storage capacity of 1 GB and a Maximum of 256 GB. The flash drive must have greater than 275 MB of free storage to be recognized by the Blink system.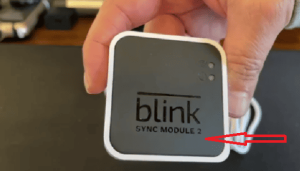 Local storage only works for compatible Blink devices – Blink Mini camera, Indoor (gen 2) camera, Outdoor camera, Video doorbell, and Wired floodlight.
On the other hand, the original Sync module 1 comes with a vestigial USB port. Blink says it was for testing purposes and won't support local storage.
Both modules work with cloud subscriptions and support up to 10 devices – depending on your plan, you can access cloud storage on multiple Blink devices.
With cloud storage, local storage plays a backup role. Here's a detailed article on Blink's local storage.
| | |
| --- | --- |
| Sync Module 1 | Sync Module 2 |
| The USB port doesn't support Local storage. | Supports Local storage from compatible devices. |
| Comes in Black or White colors | Black and White with a Sync module 2 label on the top |
| | Improved performance features, especially with cloud storage – faster and more responsive |
| Works with all Blink cameras | Works with all Blink cameras with local storage available for compatible models |
There isn't much difference between these modules except for the local storage. However, if you plan to run your system without a subscription, module 2 should be your option.
Final Thoughts
The Blink Sync Module 2 is an excellent addition to your Blink security system. With its easy installation process, remote access to camera feeds, and local storage of recorded video footage, it's a device worth investing in.
While it may not have some of its competitors' features, it's a reliable and simple device that will give you peace of mind.
Remember, always ensure you have a robust 2.4 GHz Wi-Fi signal to get the most out of your Module.