Amazon Alexa is a family-friendly device with a profanity filter to control obscene words or songs under the music and podcasts section. Although this feature is made in good faith, it can be annoying when Alexa keeps bleeping out or entirely blocking your favorite tunes. Well, it's about time you put a stop to that.
This guidepost will cover how to disable the profanity filter on Alexa. Let's dive in.
How To Turn Off Explicit Filter on Alexa
There are two ways you can apply to disable the Alexa explicit content filter; through the Alexa voice control command or the Amazon Alexa app. To use the voice control command to disable the profanity filter, you must first enable it on the app.
The Alexa explicit filter only applies to the music and podcasts section. Turning it off doesn't mean that Alexa won't sensor other words. This is because all other responses are processed from the server.
However, there are other workarounds to enable swearing on your Alexa device. Stick around for more details.
So, how to turn off the explicit filter on your Alexa device:
Through the Alexa App
Launch the Amazon Alexa app on your mobile device
Tap the "More" icon on the bottom navigation menu
Select the "Settings" option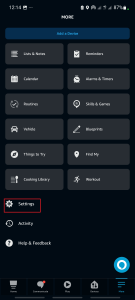 Scroll down to the Alexa preferences section. Tap the "Music & Podcasts" category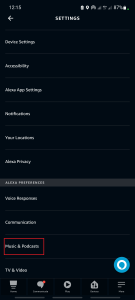 Check the "Profanity Filter" status. It can either be enabled or disabled. If the status is enabled, click it to open the customization window.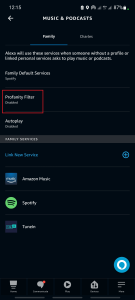 Disable the profanity filter toggle.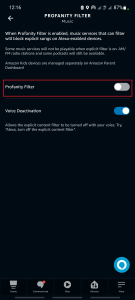 You are set now. Restart the Alexa device to apply the changes.
Test the Alexa filter with explicit songs to check if the filter is working.
Via Voice control command
Alternatively, you can use an Alexa voice control command to enable and disable the profanity filter. This offers hands-free settings customization. However, the "Voice Deactivation" feature under the profanity filter must be enabled for the voice command to work.
To turn on the voice activation feature, Open the Alexa app > tap the More icon > Settings > select Music & Podcasts > Profanity Filter > enable the "Voice Deactivation" toggle.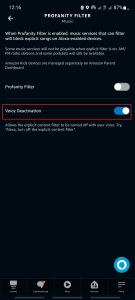 This allows you to filter content with your voice. Try this command, "Alexa, turn off the explicit content filter."  On the other hand, use "Alexa, turn on the explicit filter" to enable the profanity filter. That's it on enabling and disabling the Alexa profanity filter feature.
Read Also: Alexa Spotify Commands
Alexa Profanity Filter Won't Turn Off
Alexa profanity filter on and off feature is a straightforward one. If it's not working on your device, it could be that you haven't restarted the Alexa device to apply the changes, or Alexa isn't correctly getting your command.
To fix this;
Restart the Alexa device. Rebooting the Alexa device refreshes its connection to your app and network and helps apply changes made on the app. To reboot, unplug the device from the power outlet, wait for 20 – 30 seconds, and reconnect it. Check whether Alexa responds to your changes.
Use clear voice commands. If you are switching the profanity filter through a voice command, ensure that Alexa understands what you say and can process it. Also, ensure the "Voice activation" feature is enabled on your Alexa app.
If none suffices, try the general app troubleshooting tips to fix the problem. Clear the Alexa app cache and force close the app. Also, try uninstalling and reinstalling the app if the issue persists.
Again, sometimes the Alexa profanity filter is buggy and unresponsive. This won't allow you to switch it from one position to another. In case this is your issue, try contacting amazon Alexa support for help on the matter.
How Do I Turn on Swearing on Alexa?
Being family-friendly in nature, Alexa won't swear by default. However, as with most devices, there are workarounds to help you get your Alexa device swearing. Either through an Alexa routine, announcement, or buying the Samuel L. Jackson Alexa voice.
These are effective ways to get your Alexa to use your favorite swear word.
Make an Alexa announcement. An Alexa announcement repeats what you type or say. This provision can allow you to speak any swear word, and Alexa will repeat the same after you.
Purchase Samuel L. Jackson Alexa voice. This Alexa skill package contains a whole lot of profanities. If you are a Samuel Jackson fan, purchasing the $ 4.99 celebrity voices adds lots of explicit content. Remember to turn off the profanity filter when using use the skill.
Use an Alexa routine. You can customize how Alexa responds to triggers through a routine's "Alexa says" section. Using phonetically similar words or altering swear words get your Alexa device swearing through the routine function. Here is how to create an Alexa routine.
Final Thoughts
Alexa profanity filter may block song music services from being playable when enabled. This underlines the importance of disabling the feature. It allows you to play music from any compatible music service.
Enabling this feature allows profanity-blocking music services to filter or block explicit songs on your Alexa-enabled devices. These music services are Amazon Music, TuneIn, and Pandora.
Turning on this feature could be why you can't play Spotify, Apple Music, or iHeartRadio music services. Also, read my post on, can you make Alexa respond to your own voice?